If you've been hearing a soft, earthquake like rumbling that's been steadily increasing in sound over the past few days, it's because NFL training camps are about to begin (in almost a week!!), and the sound is the collective blood of every football fan in the country slowly, but surely, filling their soon to be erect penises. The beginning of training camp is like Christmas/Hanukkah/Kwanza/the day you got your first blowjob all rolled into one meta-orgasmic experience. The excitement is boundless, from getting a chance to see your brand spanking new free agent signees in your team's colors for the first time, to catching the first glimpse of your first round draft pick studs and late round sleepers with troubled pasts. That being said, once the rumbling starts, its officially time to start thinking about fantasy football (unless you're NUTS and have been thinking about it since the day after the super bowl like I have). Talking about fantasy before training camps have even started is a little tricky because a lot can happen between then and the start of the season. The safest place to start is quarterback, however, because the only qb's you'd want starting for your team are ones that have their jobs locked up by this point anways…so on with the rankings:
More...




THE BRADY TIER-abundant weapons and skill with no risk



1.

Tom Brady:

draft him whenever possible.



TIER TWO-many weapons and skill on offense with few questions and extremely low risk--you can't go wrong



2..

Drew Brees:

New Orleans didn't do anything in free agency or during the draft to improve their offense; however, their O could be better by additions made from within.

Deuce

tore his ACL early last year and, if healthy, will be a tremendous help to what was a pathetic running game last year. This will additionally take some pressure off Brees and

Colston

. Speaking of Colston, the Saints only have the uninspiring duo of

Devery Henderson

and

David Patten

behind him, but they also have 2007 first round pick

Robert Meacham

who looked uninterested last year before suffering a season ending injury. He will come back healthy this year but only training camp will tell if he's more prepared and focused. If Meacham and Deuce can contribute anything than the offense can be ridic again. Good news for Brees, who despite all the instability on offense last year, still threw for more (barely) yards than in '06, finishing with 4,428, good enough for 2nd behind Darth Vader. Brees is a pretty safe pick to stay healthy, throw for well over 4,000 yards, and toss around 30 touchdowns. I feel like he's slightly safer than Romo (only 2nd full year starting) and Peyton (injuries) but has considerably less upside than either of those two.


3.

Tony Romo:

The Cowboys lost one starter out of 22 this offseason,

Julius Jones

, and that is a clear case of addition by subtraction. They have an elite receiver in

T.O.

, in

Witten

they have the best all around TE in the league, they have a very good running back tandem in

MBIII

and rookie

Felix

Jones

, and, most importantly, they have one of the best offensive lines in the NFL. On top of that, they have one of the best young offensive minds in football as their Offensive Coordinator,

Jason Garrett

, with a QB that he LOVES. Yes, there are questions about their second receiver, but, to say the least, they did fine last year with

Crayton

being their third option (behind T.O. and Witten). As if Romo needed any more red zone targets, Wade and Co. added the 6'7" 2nd round pick TE

Martellus Bennett

, who is a HUGE target that could see very little attention on an offense with so many weapons. Romo has some of the most dynamic talent surrounding him, but he also knows how to take advantage, as he threw for 4211 and 36 in 07. When drafting Romo, there is slight risk in that he hasn't proven himself over many years like Brady, Brees, and Peyton, but his upside is as high as any QB's this year.

4.

Peyton Manning:

Peyton will likely go second at the QB position in the vast majority of fantasy drafts, but that doesn't mean that you should take him there. I had him as the second ranked QB before news of his injury surfaced yesterday (sure, he's never missed a start in his career, but doesn't that most likely have to end eventually, and he is getting older…), and that news, coupled with the questionable status of

Marvin Harrison

, who is 36 years old, missed most of 07, and is recovering from offseason knee surgery (titods), is enough to make me think that Peyton won't finish the year as the second best fantasy QB (he was 4th last year too). As far as Harrison is concerned, the Colts appear confident that he can return and be productive (but are you willing to trust them after toying with Marvin's status for most of last season?), and most of the evidence for that stems from the fact that they waited until the 6th round to draft a receiver (

Pierre Garcon

out of Mt. Union…uhhh). The only problem with this theory is that no team thought any of the receivers in this draft were of a first round caliber, while most of the good ones were gone by the end of rd. 2, when they picked again. Even without Marvin, we all know that they have

Reggie

(1500 and 10 in 07), 2007 first round pick

Anthony Gonzalez

, who should improve upon his 576 yard, 3 TD rookie campaign, and

Dallas Clark

, who had more touchdowns than RW last year with 11. Add all that up and Peyton still threw for 4,039 and 31 last year without the Martian, so even the possibility of Marvin treating for them is enough to make most owners think that Peyton is the second safest pick at qb in fantasy.



TIER THREE-still many weapons on offense but either less skill (Anderson) or more questions (Palmer, Ben). All very startable with low risk.



5.

Carson Palmer:

After this initial group, most drafts will not see another QB drafted for a few rounds, and, while Carson has the potential to be in the second tier, he also comes with much more risk. That risk starts with

Chad

and

T.J.'s

general unhappiness, but, as long as they're on the team, Carson has enough weapons and skill to post 4000+ and 25+. The addition of

Ben

Utecht

could also be significant, as he's a large 6'6" target in the red zone and could replace some of

Chris Henry's

production there.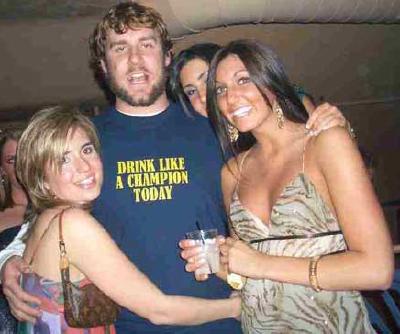 6.

Ben Roethlisberger:

Big Benjamin got a lot of help in this years draft, as Pittsburgh added two of my favorites in RB

Rashard Mendenhall

and WR

Limas Sweed

. He only threw for 3,158 yards but had 32 TD's (much to the chagrin of

Fast Willie

owners).

Santonio Spurs Holmes

emerged as a legitimate #2, red zone fav, and eventual successor to old man,

Hines Ward

, who's age is showing due to the fact that his numbers are steadily decreasing, while his games missed are increasing. Two things I don't like about Ben this year: first, their o-line took a huge hit when they lost

Faneca

. Secondly, the Steelers love to run and will do so plenty again in 08 with the addition of Mendenhall, and BB won't have the number of attempts as any of the other guys ahead of him. He doesn't, however, make many mistakes with those attempts and should find the end zone 30+ times, possibly making him more attractive in leagues that are more TD centered than guys like Carson and Brees.

7.

Derek Anderson:

The Browns' o-line is SICK, the best in the NFL, and that makes super scrub Derek Anderson's life soooo much easier. They didn't really do shit in the draft due to lack of picks (thank bench warmer

Brady Quinn

for that), but they made up for it (or at least tried to) in FA. Their Defense still saulks, so (like last year) they should be in a lot of shootouts, meaning that Derek will have plenty of opportunities to throw to his studly supporting cast of

Kellen

and

Braylon

, two of the best in the NFL at their positions. Their depth behind Braylon is solid too, as journeyman

Stallworth

will provide the already potent offense with even more speed and will allow

Jurevicius

(once he returns from the injury that might cause him to miss the first game or two of the season) to play almost exclusively in the slot where Anderson can better take advantage of his size.



TIER FOUR-the studs are gone, but these guys should be solid.



8.

Matt Hasselbeck:

This spot might as well be named

Mike Holmgren

, as his west coast offense is the reason that Hasselbeck, with his generally pathetic supporting cast, will still be a top-10 QB in 08. Seattle hasn't done much this offseason to help Hasseldick either; in fact, their offense has gotten slightly worse on paper. They lost the injury prone

D.J. Hackett

and might not have

Deion Brach

(coming off of ACL surgery) for much, if any, of the season. Their number one wideout is

Bobby (ugh) Engram

, the 35 year old, formerly worthless WR, who had a good season last year, mainly due to lots of injuries at the position and an absolute joke of a running game, which forced Seattle to throw the ball 562 times, fifth most in the NFL. Expect them to be forced to throw the ball a lot again this year, as Julius Jones will have another year to prove that he's not good enough to be a starter in the NFL. Many attempts for Matt means many completions, and

Julius

won't be scoring many TD's (Duckett might get a few) so expect Seattle to find the end zone mainly through the air. Besides Jones, the only other significant addition to their offense was the uninspiring/worthless TE

John Carlson

, the former Notre Dame basketball/football player drafted early in round two, who is more of a blocking TE…the second coming of the great

Anthony Fasano

, anyone?


9.

Eli Manning:

So are we going to see playoff Eli or regular season Eli in 08? I'm guessing that we'll see something in between. The Giants have a good o-line and a good, but injury prone, running game. Luckily, they have quality depth at the position, (recently unjailed

Ahmad Bradshaw

and

Derrick Ward

) so they can semi-afford for all to have 90+ INJ. The problem with them, as far as Eli's stats go, is that really only Ward (who should be third string unless Bradshaw gets suspended) catches many balls out of the backfield. Another risk involved here is that there is still no guarantee that

Shockey

comes back. If he does, and the Giants run a lot of two tight end sets with him and

Boss

, then Eli will have plenty of opportunities to extend drives with his big, talented TE's. At WR, there is also reason to be optimistic with

Plax

and

Amani

, followed by their young guns in

Steve Smith

and

Sinorice Moss

, along with veteran

David Tyree

. Eli has some quality weapons surrounding him, and he should have increased confidence; now, lets see if superstar Eli shows up more this season than Eli-face.

10.

Philip Rivers:

Injuries with Rivers and the Chargers are the main concern here. Firstly,

LT

is coming off of a torn MCL that didn't require surgery, and he should be fiiiiiiiiiiine to start the season, while missing the pre-season as per usual.

Gates

' outlook is not as promising, as he is coming off of foot surgery, which could cause him to miss the beginning of the season (camp will tell). Next, Rivers himself is coming off of a torn ACL that also required surgery; however, from all reports out of San Diego, he will also be fine and will play in the pre-season. The last injury that is a concern is to C

Nick Hardwick

, who is also coming off of offseason knee surgery. He will miss at some of the beginning of the season, and his absence could disrupt what is otherwise a very good o-line (when he missed time in 07, their offense struggled). Besides injury concerns, team wide, there's a lot to like about Rivers.

Norv Turner

is a very good coach for QB's and will continue to help develop his young whippersnapper.

Vincent Jackson

had a disappointing 07, but stepped it up in the playoffs big time (2 TD's and 3 games of at least 93 yards), so could be bound for a breakout '08, as something might have clicked chemistry-wise between those two.

Chris "One in the" Chambers "Wu Tang Banger"

will also have a full offseason and training camp to get adjusted to the Bolt's offense and Turner's system, which should help him be able to contribute more this year. Rivers and the his offense will have lots of weapons, and he should put up around 3,500 and 20+.



TIER FIVE-high upside guys with more risk-these are the guys you can get for pennies on the dollar in later rounds that win you leagues.




11.

Aaron Rodgers:

I just want to start this off by saying that I LOVE AARON RODGERS…LOVE. What's not to love, really? I'm fully aware of the situation going on in Green Bay, and, if a certain someone comes back and screws things up, then obviously disregard this. But until then, Rodgers is the man, and there are many reasons for my love. Firstly, I believe that Rodgers took the perfect path to becoming a starting QB in the NFL. We all remember his draft day slide in '05 when he fell to the Pack at 24th overall (the Packers have a history of taking good QB's in drafts only to trade them because Favre is so good and durable--examples,

Hasselbeck

,

Brunell

), much to his embarrassment. Instead of rushing him into the starting lineup, Rodgers carried a clip board for three years (like Romo) and learned the tricks of the trade from one of the greatest QB's in NFL history (like

Steve Young

with

Montana

). He has spent the last 3 years preparing, studying, and readying himself physically and mentally for the job that would eventually be his. We saw Rodgers for the first time against Dallas last year, and he was impressive to say the least, nearly leading the Packers back from a 20 point deficit and looking better than

Favre

in doing it. Also, the Pack run a west coast offense (a cash register sound should have just gone off in your head), which they won't change much because of him, meaning that he'll still throw plenty. Secondly, he inherits a bevy of weapons and one of the most solid receiving corps in the NFL:

Donald Driver

(over a thousand yards last season),

Greg Jennings

(920 and 12), and

James Jones

(676 yds in 07). They also have one of the top ten backs in the league in

Ryan Grant

, which means that, if teams try to stuff the box against Ryan, (not a good idea, as he is very capable of getting to the second level quickly and breaking away for 6) then Rodgers will have even more space to pick them apart. If you don't buy into my optimism for Rodgers, then believe the Packers, who are ready to tell Favre to shove it, so that they can keep Rodgers happy. They must not think that they'll miss much of a beat with him in there, and neither do I.

12.

David Garrard:

He was one of the most efficient QB's in the league last year, finishing 3rd in QB rating, and the Jags did a decent amount to make his life easier this year, although they mainly focused on finding new ways to get to Peyton on the other side of the ball. Their additions pertinent to Garrard were

Jerry Porter

from Oak and

Troy Williamson

from Minn, both of whom should be able to stretch the field more for David and allow him to work. He will also benefit from most defenses trying to stop the dynamic

MJD

and the perennially UNDERrated

Fred Taylor

. A few things going against Garrard, besides his relatively few amount of weapons, are the fact that Jax loves to run, and that they won't be behind much or in many shootouts (amazing defense), which both mean that he'll see fewer attempts than probably every other guy on this list (as a team they finished 27th last year).

13.

Donovan McNabb:

I doubt that I'll be drafting McNabb in any leagues of mine this year, and, if you plan on doing it, then make sure that you have a viable back up plan because you will need it at one point or another. That is just the reality of McNabb; he is an injury waiting to happen (it doesn't help that a quarter of his games this year are against the Giants' and the Cowboys' front sevens). On top of this, he really doesn't have many viable weapons outside of

Brian Westbrook

, as his top receivers are

Kevin Curtis

,

Reggie Brown

, and

Jason Avant

( :/ ).

L.J Smith

is pretty much a mock and will continue not to do much for them next year either. Despite all this, McNabb will still find a way to produce, when healthy, and his 10-14 games will be good enough to make you respectable at the QB position. This negative nancy outlook will be dead wrong if (despite the 1:1,000,000,000,000 odds) he can stay healthy and be healthy (has he been since '04? Or is it T.O leaving that really faulked him?) because McNabb is till one of the top 5 most talented QB's in the league, and his upside is as such.

14.

Jon Kitna:

If I could start a "franchise" and could chose any WR in the league, I'd take

Calvin Johnson

first, based on his age, size, speed, attitude, and, in general, amazingness. It's not fair to him (or

Roy Williams

) that their QB is the spare-ass Jon-with-no-h (eoh) Kitna, but such is life. I also like their slot receiver

Shaun McDonald

, who was very good year last year (943 and 6). They added another of my favorite backs,

Kevin Smith

, the NCAA rushing leader, in the draft in round 3, which should be a solid replacement of the oft injured

Kevin Jones

. The Lions passing offense won't be AS nuts this year, as it was last year because

Martzanity

has gone to browner pastures in San Fran. You still have to like Kitna, however, because you know that he'll get you yards and touchdowns (unfortunately just as many pics) with his extremely capable WR corps.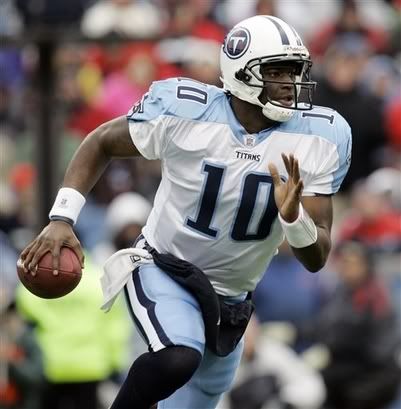 15.

Vince Young:

I feel bad for my boy because the Titans are asking him to build a house but only giving him sticks and leaves to do so. His two best receivers are former Tulane great

Roydell Williams

and

Justin Gage

….ugh. There aren't many QB's in this league that could make that puppy sing. The help that did offer, however, will be good enough to improve his sub par numbers from last year (9 TD's and 17 picks, its okay if you just vomited a little in your mouth), as they added

Justin McCareins

(who careins) but, more importantly,

Alge Crumpler

, who in his last season with Vick had 780 and 8. This dude is a large target, something that mobile QB's like Vinny Chase need, because they need a place to dump the ball when they're running around like a chicken with its head cut off. With him and

Scaife

, VY at least has some large, semi-skilled TE's who can take some pressure off of his terrible WR's. They also added the speedy RB

Chris Johnson

in the first round of the draft to compliment LenFatestMostWorthlessBackInTheNFL, which could turn into another receiving option for VY. Bottom line is: don't draft Vince thinking that he'll be capable of being your starter. Draft him late, after getting someone more dependable, and use him as trade bait later on, it he pans out, because he has considerable upside.